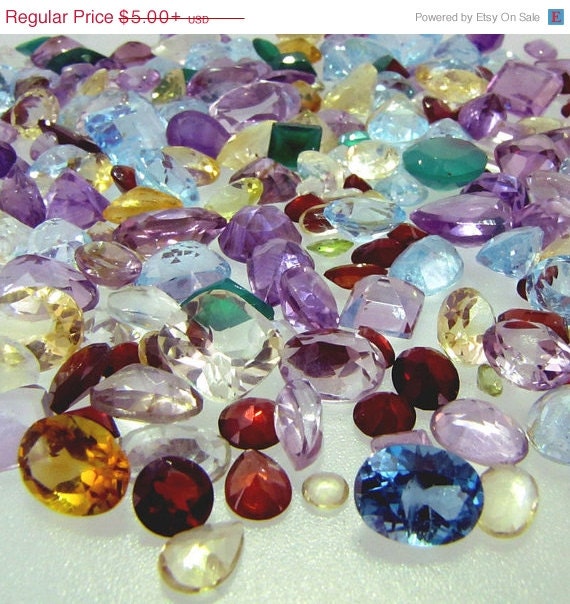 4.50 USD
You choose the amount of gemstones by carat weight from 5-500 carats
Please select the amount desired using the drop down menu at checkout.
Mixed gemstone lot amethyst, ruby, citrine,quatrz, peridot and MORE GREAT DEAL
ANOTHER ABSOLUTE AMAZING FIND – NATURAL EARTH MADE FACETED GEMS & JEWELS
best price anywhere for this size lot of mixed gems
all natural
MAKE YOUR OWN JEWELERY – THIS IS THE MOST AMAZING PART!!
ALL JEWELS ARE READY TO SET!!!
THESE GEMS ARE WORTH WAY MORE THEN WHAT I AM SELLING THEM FOR HERE ON Etsy
These are just beautiful stones most stones are from .25 carats to over 4 carats each
wonderful lot to work with some will grade high others have inclusions all are natural faceted fun lot. Amazing value.
YOU MAY ASK HOW CAN I BE SELLING THESE AT SUCH A GREAT PRICE?
I BUY THESE DIRECT FROM A MAJOR INTERNATIONAL GEM DEALER.
I BOUGHT SUCH A HUGE VOLUME HE DROPPED HIS PRICE SUPER LOW!
ALL GEMS JEWELS ARE 100% NATURAL FACETED GEMS ALL ARE GORGEOUS NATURAL GEMS MADE BY MOTHER EARTH Beautifully Crafted, and Ready to Set!!!
THERE ARE NO LAB CREATED OR SYNTHETICS
GEMS ARE EYE CLEAN AND ABSOLUTELY BEAUTIFUL!!
The lots are made up of and may contain: Alexandrite, Amethyst, Ametrine, Aquamarine, Citrine, Cornelian,Garnet, Iolite, Moonstone, Morganite, Onyx, Opal, Peridot, Smokey Quartz, Rhodolite,
Spessartite Garnet, Star Diopside, Tanzanite, Tsavorite, Topaz and Zircon, etc…….
For this price, gemstones are selected at RANDOM so there are no promises, or requests honored on stones received. They will be selected at random.
Etsy Shop for RockParadise
Related Posts: